Liguria: "Mare e Monti" – where the sea touches the mountains
The coastal region in north-west Italy stretches from the Cote d'Azur to Tuscany with the Riviera di Levante in the east, the Riviera di Ponente in the west and the port metropolis of Genoa as its capital. This is where the Italian "mare e monti" has its origins: the Mediterranean Sea and the adjoining high mountains of the Ligurian Maritime Alps meet in a very small area could hardly be any closer together.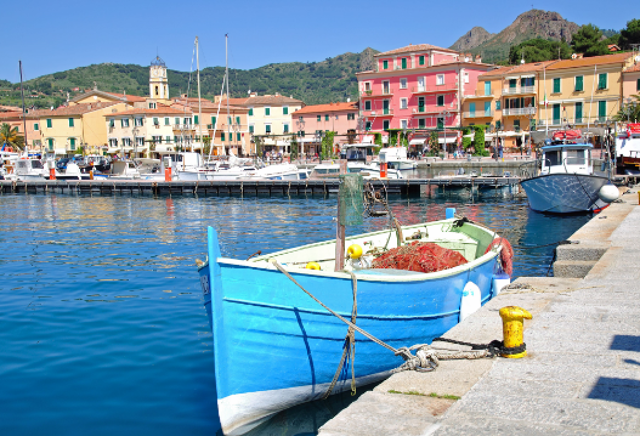 Genua: Between spending power and fishing
The Italian port city profited from the flourishing maritime trade for centuries, which helped the local fishers and businessmen of the time to achieve great wealth. The money was used to build magnificent palazzi, create paintings and shift the city boundaries by purchasing large estates beyond the city walls. Nowadays, the picturesque old town of Genoa with its many as World Heritage Sites protected boulevards counts as one of the largest. Throughout the entire region you will find renovated castles and palaces offering luxurious living comfort. Genoa combines the charm of a lively cultural city with the romantic flair of picturesque fishing villages.
Imperia: landscapes, as if painted in magical watercolours
The province of Imperia is characterised by the blue sea, picturesque bays and marinas, golden beaches and green hinterland with fascinating valleys and gorges. Further into the country nature has created a seemingly untouched refuge with lush vegetation of chestnut trees and holm oaks, berry bushes, pines and herbs with small villages, medieval castelli, stone houses, vegetable gardens, vineyards and olive trees in between.  A landscape, as if painted in magical watercolours.
Savona: palm tree beaches and old town flair
Authentic villages characterize the province of Savona with the capital of the same name. The province has achieved popularity with its important port at the end of the Middle Ages and palm trees along the coastline – it is still one of the five most important port cities in Italy.
Imposing buildings and narrow, winding alleyways are often home to excellent restaurants. In the hinterland there are many small, charming towns and villages where the time seems to stand still.
La Spezia: Irresistible romanticism
The province of La Spezia extends along the Riviera di Levante and stands for jagged rocks and rugged cliffs in picturesque bays with carefully hidden beaches. White spray hitting the rocks here has inspired generations of writers and poets – leading to the name "Gulf of Poets". The beauty of the Cinque Terre with its five fishing villages, which are laid out on rock at the end point of sharply incised valleys with an enchanted flair, is world-famous.