Wineries in Italy: Investment with value enhancement potential
Wine belongs as naturally to Italy as the Dolce Vita and has a very long tradition. The combination of the Alps in the north and the Apennines in the south predestine perfect conditions to produce light table wines at a world-class level. Are you a wine lover and considering buying your own winery in Italy? Talk to us – we offer rustic traditional properties with vineyards and olive groves in Tuscany for sale, but also extensive, very high-quality wineries with high touristic value.
Our properties
Found 0 estates over all.
Nothing found?
We will find the right property for you! Save your search request and receive new property offers immediately.
Main house plus adjoining buildings can also be used for touristic purposes
The inventory of a winery basically includes a very spacious main residence as well as several adjoining buildings with already furnished apartments ready to be inhabited – by holiday guests for example. In addition to the areas for the actual cultivation of wine, the estates often include olive groves, as well as extensive gardens and/or other areas for agricultural use. The wine cellars in the main house are adapted in size and equipment to the respective production capacities. A pool on the property is more of a rule than an exception.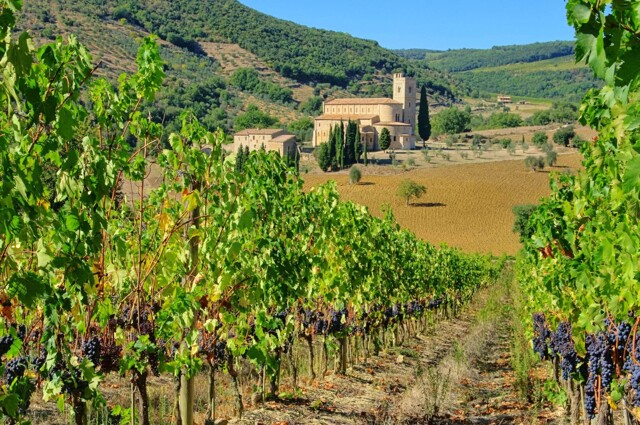 Technical equipment varying according to size and location
Most of the traditional wineries that we offer for sale have been cared for with great passion over generations. Often it is succession problems or health reasons that motivate winegrowers to put their vineyards up for sale. Depending on the property, the wineries are equipped with modern technical equipment, i.e. an efficient press and stainless-steel tanks with integrated cooling, a filter system, as well as wooden barrels and agricultural vehicles. Smaller wineries are usually less equipped but offer room for the realization of your own ideas. Every winery is also a substantial investment – with guaranteed value enhancement because the areas no longer grow.
Count on the competence and experience of the local winegrowers
Buying a vineyard in Tuscany, on Lake Iseo or Lake Como is a big decision. If you are concerned about a lack of the necessary expertise, it is advised to rely on the competence and experience of the local Italians, who have often been successfully cultivating wine for generations.